Building compliance and condition assessment, optimized
Track Record Facilities, your web-based compliance management platform. Enabling you to deliver full compliance and condition assessment with evidence audit trails, all at lower cost and risk.
Interested in talking to a member of our Track Record team?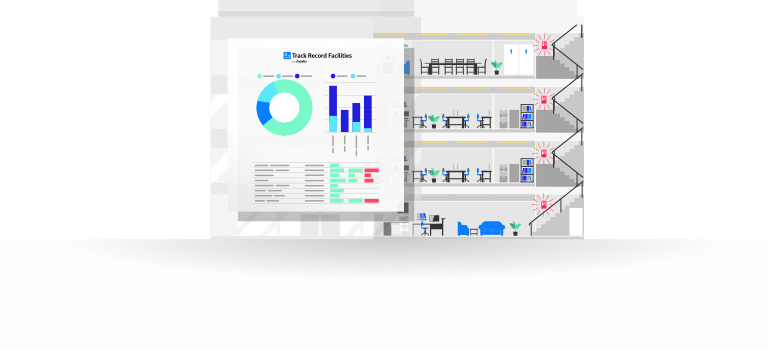 25% *
Average increase of compliance in the first year
>50% *
Increased efficiency across data collection and reporting
>200% *
Return on investment
* Source: Sample of clients over the last 3 years
WHAT IS TRACK RECORD FACILITIES?
Find out how it works
THE TRACK RECORD APPROACH
End-to-end workflow re-imagined
The Track Record platform can drastically increase team efficiencies through digitizing condition assessment processes, improving team collaboration, saving time and reducing the cost of surveys by 50%. Less time spent on administration and paperwork, provides your teams with more time to re-invest in their specialism.
With existing processes, you might wait two weeks from the day of survey until you get the information you need.
Our process takes one day.
Schedule
An alert notification highlights when inspections are due, accessible anywhere, on any device, at any time.
Inspect
On-site mobile data capture speeds up inspections and provides secure upload and access of all information, on the go.
Report
A report is automatically created, with interactive visual dashboards - keeping key stakeholders informed.
Action
Traffic light systems identify real-time progress and provide alerts, supporting fast action.
Comply
Full compliance and condition assessment delivered, with evidence audit trails of data that you own.
KEY BENEFITS
Why teams love Track Record Facilities
Improve efficiency
We support productivity. Speed up your inspections, securely upload and access all information, across any device, as well as gaining instant updates on the go.
Unlimited users
We encourage collaboration. With unlimited seats your price won't increase, no matter how many people use the platform.
Reduce risk
We provide peace of mind. Enabling you to prove your portfolio regulation compliance within a limited budget and without unnecessary costs.
One platform
We simplify things. Digitizing the collection, storage, analysis and reporting of your data all in one centralized place.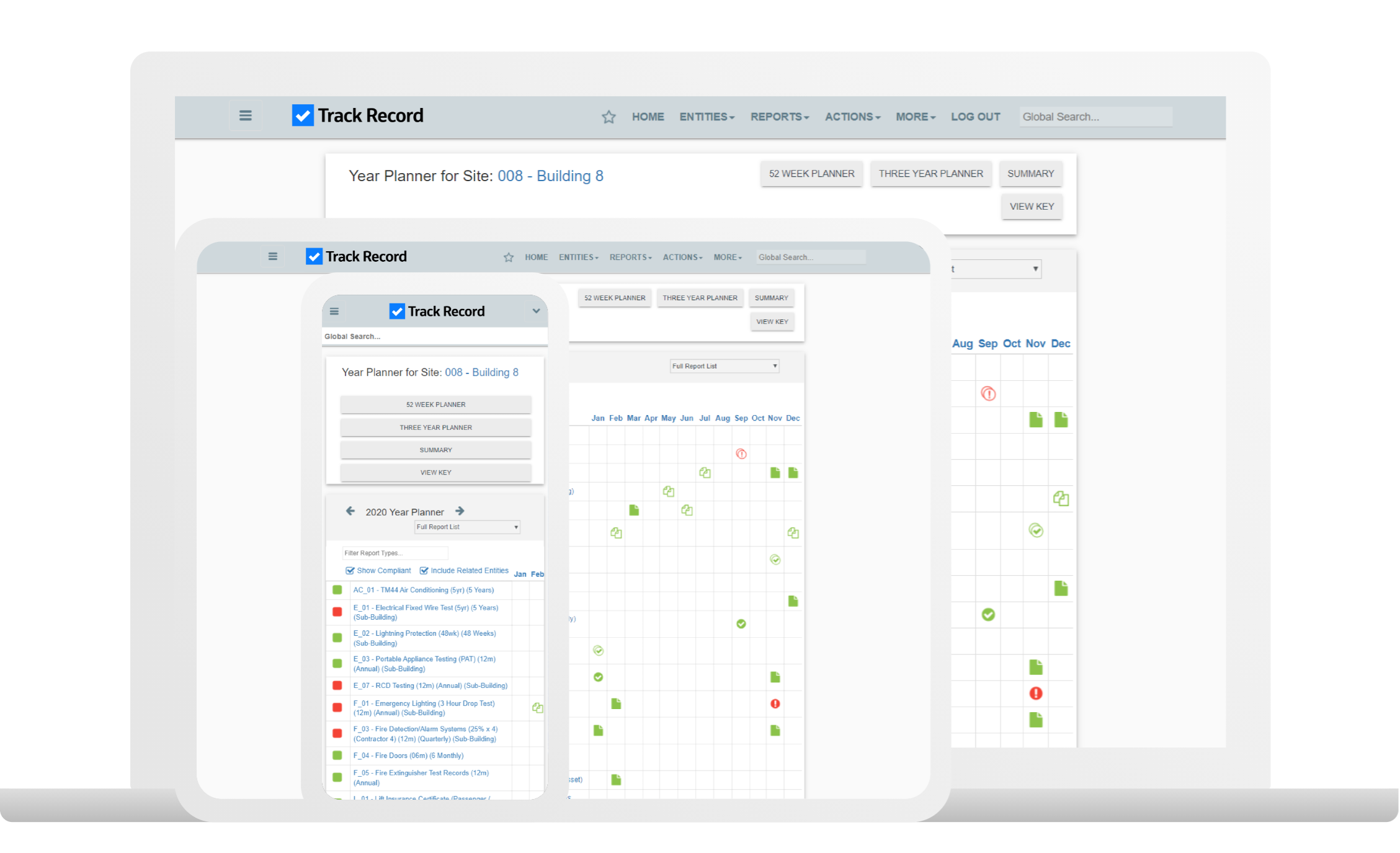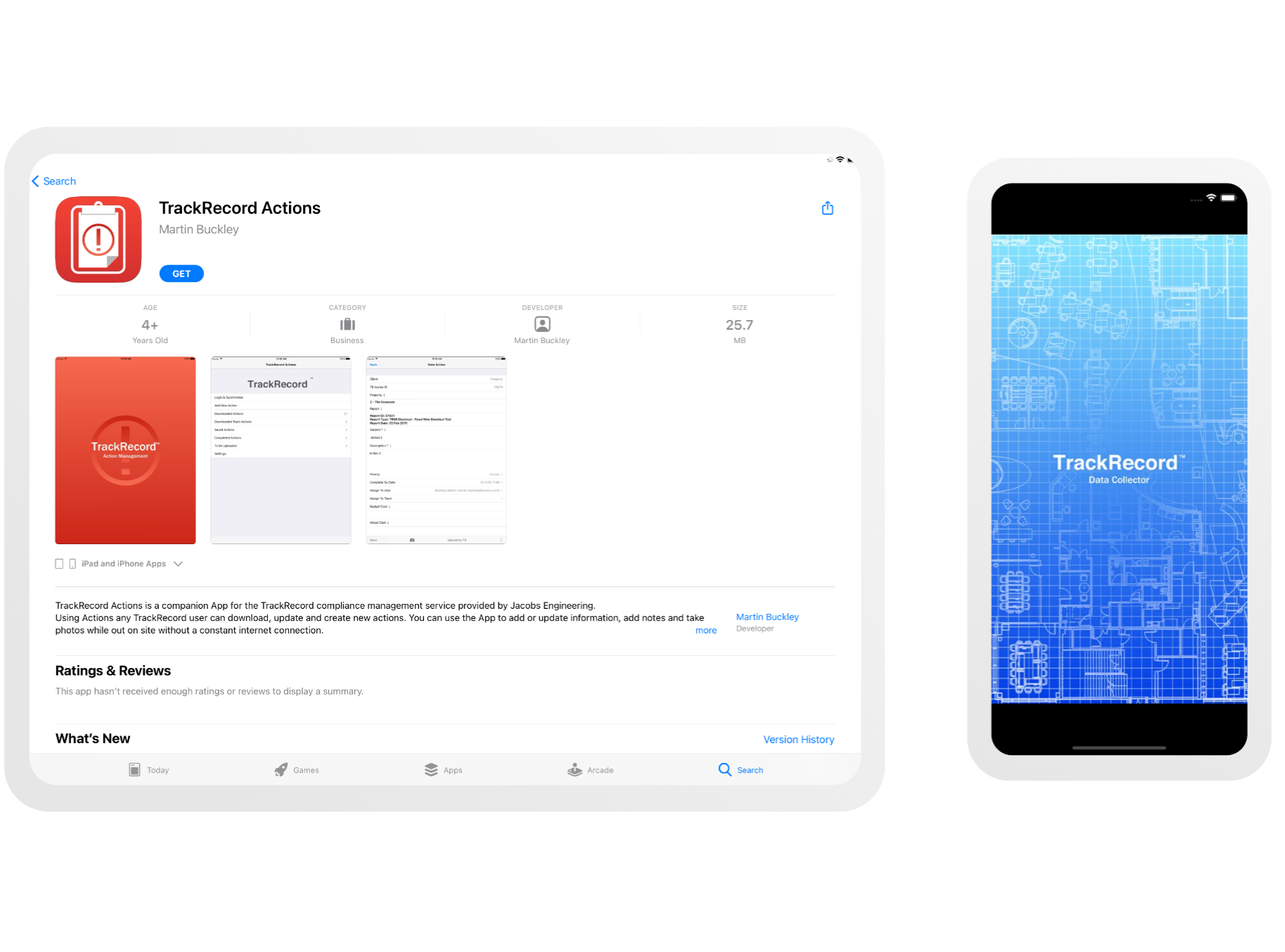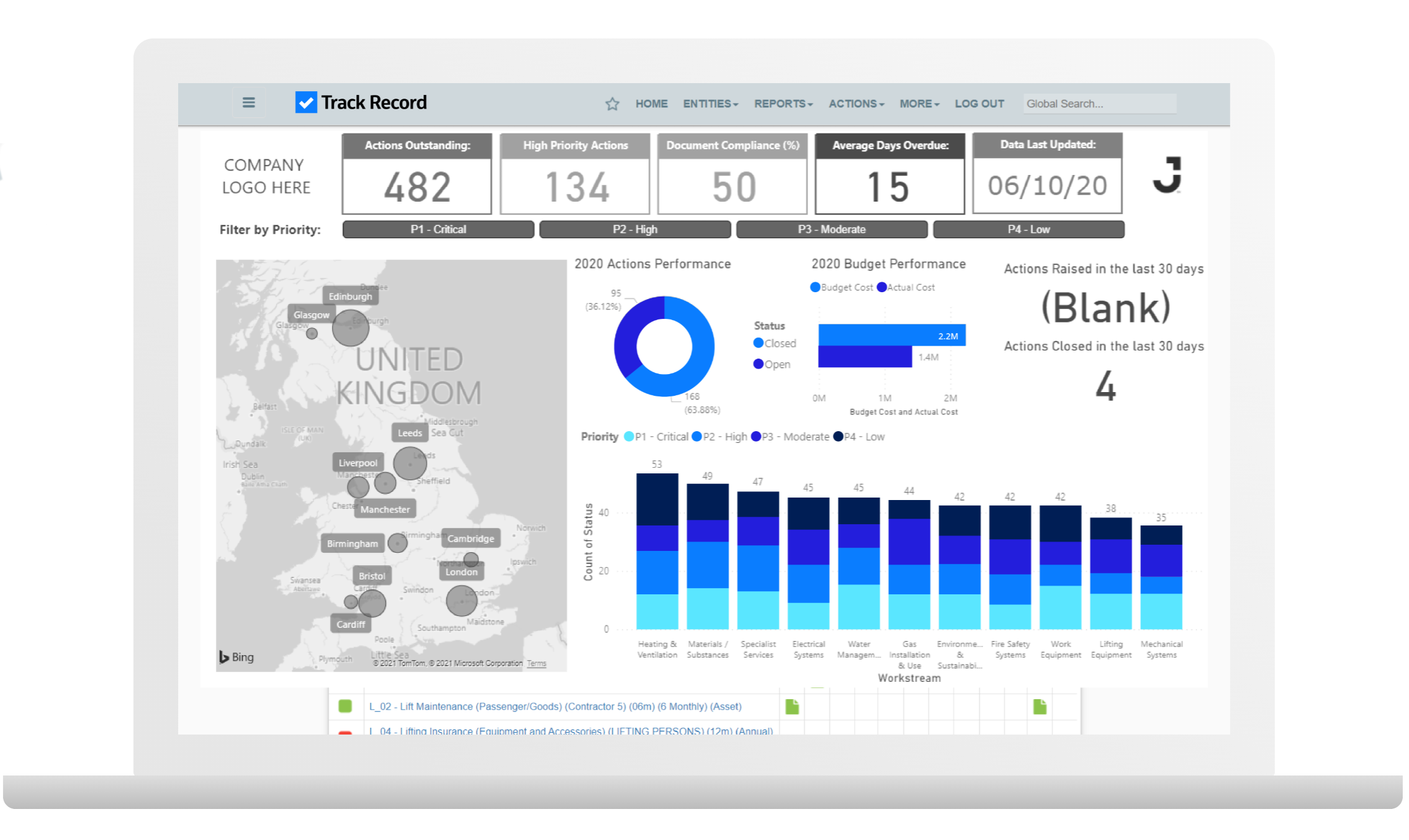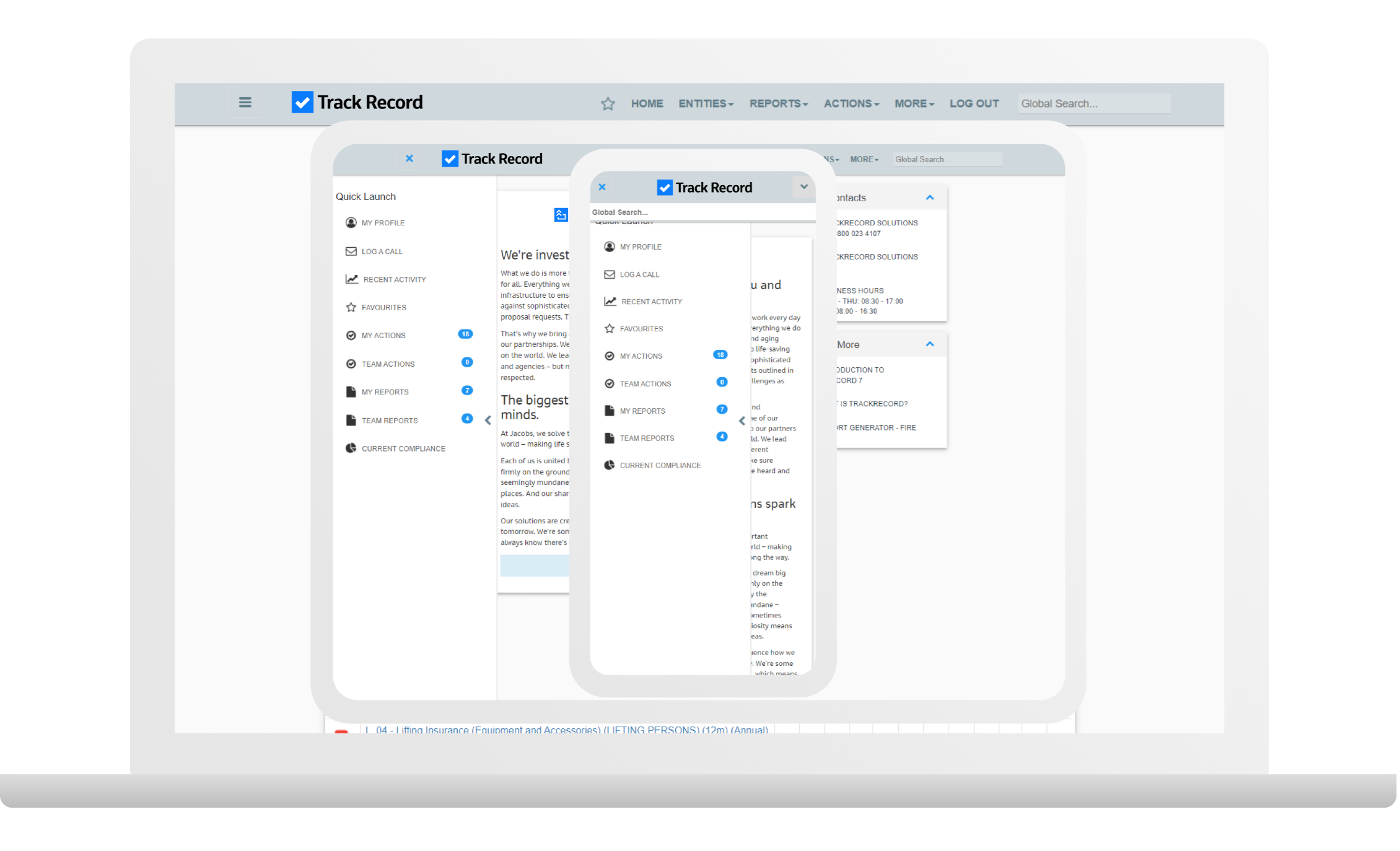 KEY FEATURES
What can you expect?
USE CASES
Empower your teams
No matter which industry you work in, Track Record Facilities can cost-effectively help you transform your building compliance management.
Property (Corporate, Offices, Commercial)
Meet your requirements. Capture surveying, quality and compliance data for informed, proactive property management.
Education
Quality assurance in construction. Streamline soft landings for a smooth handover process and easy adoption, ensure trusted quality management and benefit from the Golden Thread data accessibility.
Manufacturing (Construction and Industrial)
Deliver process efficiency. Ensure minimal operational disruption, ensure statutory and sector compliance within budget constraints. Meet requirements of the Construction Safety Bill with client owned date, supporting soft landings and mitigating design and construction defects with evidenced audit trails.
Government (Healthcare, Ministry of Defence)
Proactively manage assets. Create a seamless, cost-effective user experience with minimal impact. Ensure compliance and in depth asset data supporting strategic property management. Efficiently maintain compliance and regulation of electrical, fire, gas, LOLER, water and more.
What our customers say
"Track Record is a key part of how we manage risk and essential statutory tasks.
We use Track Record Facilities for statutory compliance with it helping us in the areas of maintenance and asset management. It is now a key part of how we manage our risk and essential statutory tasks."
Andy Smith
Technical Compliance Director at Gov Facility Services Limited
>250,000
APP GENERATED RECORDS/IMAGES
>1,000,000
RECORDS GENERATED
PROVEN
We're tried and tested
For almost two decades, teams have trusted Track Record software to reinvent the way they collaborate and approach data management. Continuously evolving alongside the needs of our clients, Track Record Facilities provides a highly secure, reliable and configurable solution to enable teams to digitize their workflows on one centralized and streamlined platform.
PRICING
Cost-effective custom packages
Prove your portfolio is regulation compliant within your limited budget.
We have a number of tailored pricing packages to suit your project. Please contact us for more information.
You also have the option to include the services of our dedicated team of building compliance specialists at Jacobs, who can help you to collect, manage, track and understand your data for more strategic decision making.
Become our next success story
Experience the power of connected compliance, speak to a member of our team today